For the first time since Ward LaFrance™ ceased operation in 1979, the original engineering drawings, parts lists, and assembly indexes of every truck ever built are together in one place. We a have all resources for anyone who owns a Ward or is simply interested in keeping the spirit of Ward LaFrance alive.
Check out our new features such as:
Ambassadors Club: Enjoy the Benefits of Membership
Collectors Housing: Tell Us the Story of Your Ward
Online Purchasing: We Now Accept Credit Cards and Paypal
Bulletin Board: Meet Other Ward Fans and Share Information
Photo Gallery: Submit Your Ward Photos to the Collection
Responsive Design: Easy Viewing on All Media
Truck of the Month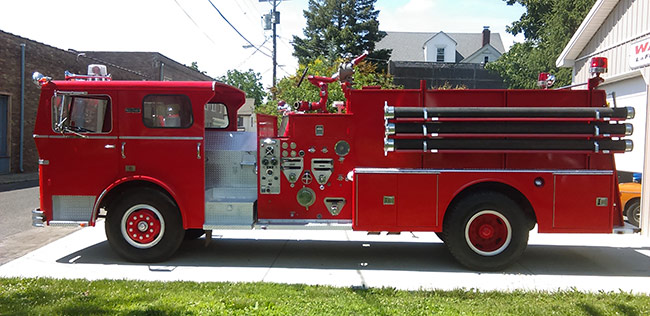 This Model P80 Ambassador (80-297) was built in 1969 for the Goldsboro Fire Department in Etters, PA. It was the 298 P-80 manufactured. Acquired by Ward Lafrance, LLC in 2003 and loveling restored in our Ward LaFrance shop to factory specs. Importantly 1969 was a pre "bad steel" Ward so there is no chronic rust issues to contend with.
Specifications include; 178″ WB, 1000 gpm two stage pump, 1000 gallon tank, 10×20 tires, air brakes, Waukesha gasoline 325HP motor, power steering, rear mounted booster reel and top mounted monitor. Only 11,318 miles on the odometer. This truck of the month is being offered for sale directly by Ward LaFrance. See For Sale section for more pictures.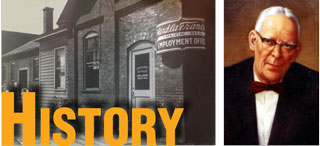 Ward LaFrance is named after its founder, Addison Ward LaFrance. In his early years Addison worked as an engineer for his father and uncle at American LaFrance. He as assigned the projectof developing aspring raising aerial with the added incentive that if it worked, his father would buy him a car agency (now known as car dealerships). Obviously, the spring raising ladder worked and Addison Ward LaFrance was rewarded with a car dealership. The success of the dealership led to the formation of a truck manufacturer which he named the "LaFrance Truck Manufacturing Company." The similarity in name with the flourishing American LaFrance Fire Engine Co. caused confusion even back then.
At a meeting with American LaFrance's company officials, it was suggested that Addison Ward LaFrance rename his company the "Ward LaFrance Truck Company." He did so, and the rest is history.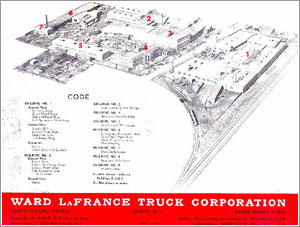 With manufacturing facilities located in his hometown of Elmira Heights, New York, the Ward LaFrance TruckCompany established a reputation for innovation and quality. Its distinctive name plate could soon be found on an array of diverse vehicles such as tank wreckers for the military, vans for UPS, over the road tractors, cement trucks, dump trucks, chassis for buses and trolleys, and even an armored car or two. If it had wheels and it was a truck, odds are that Ward LaFrance built it at one time or another.